Cricket
TEACHER IN CHARGE: Mr Regan Cross [email protected]
Kia ora koutou
Welcome to cricket at Tauranga Boys' College!
Firstly, all of this information including the links to registration can be found on the following cricket pages of the school website:
Cricket website pages: https://sport.tbc.school.nz/titans-sport/summer-sports/cricket
How to get involved: https://sport.tbc.school.nz/titans-sport/how-get-involved/cricket
Tauranga Boys' College Cricket aims to offer all students the opportunity to play cricket at a level that they will enjoy and/or that will challenge them. Tauranga Boys' College has a history of excellent performance at 1st XI level. At the end of 2022 our 1st XI finished in 2nd place at the Gillette Cup National Secondary School tournament, an outstanding achievement! We placed 3rd in 2017. Prior to that we last won the Gillette Cup in 2005 and have placed third on four occasions since then. We have also made the final of the Super 8 Cricket tournament in four of the past six years, winning the title at the beginning of last year to kick start an amazing calendar year of cricket for the 1st XI.
Our Junior 1st XI has made it through to the NZCT National Year 9/10 Tournament in Palmerston North in the past two seasons (last year was canceled due to Covid) to show that we have some fantastic depth across all age groups at school. The season before we were crowned National Junior 1st XI Champions.
High performance aside, cricket is a great medium for our boys to be physically active, develop their cricketing ability, learn social skills from being a part of a team, and to develop values such as integrity, commitment and perseverance. It is very important to us that we help to develop 'good men' as well as 'good cricketers'.
To get a bit more of a feel for TBC Cricket, here are our social media platforms:
https://www.instagram.com/tbc_cricket/
https://www.facebook.com/TBCcricket/
FORMAT
The format of cricket for your son will depend on both his ability and/or his preference. So you are aware, there are two divisions of College Grade cricket.
College Division 1 (40 overs, 12.30pm start)
(Year 9 and above) This is a competitive grade for players of a higher level of ability (As a guideline for our new Year 9 students, this grade is suitable for players who have played Intermediate Div 1)
College Division 2 (35 overs, 12.30pm start)
(Year 9/10) This is for players who are either new to the game or have moderate playing ability (As a guideline for our new Year 9 students, this grade is suitable for players who have played Intermediate Div 2)
Our '3rd XI' and '4th XI' play in the WBOP Senior Men's B Grade competition. Our 2nd XI plays in the WBOP Senior Men's Reserve Grade Competition and our 1st XI in the BOP Senior Men's Grade.
YEAR 9 MUSTER (or new Year 10/11 players)
We will be holding a muster/training session for all Year 9 players (or NEW Year 10/11 players to the school) on Thursday February 2nd during lunchtime. Normally we hold the session after school, however the 1st and 2nd XI train on Thursday (and families travelling away for Waitangi weekend will be keen to get away straight after school on Friday 3rd February). We may need a second muster on Friday at lunch time depending on how many boys we have at the session. Please meet at the indoor net facility and bring your school PE uniform. There will be a gear bag of equipment available to be used if your son does not have his own. On a Saturday, each College Reserve grade team will have a full gear bag meaning that you do not need to have any 'cricket specific' equipment to be able to play cricket at TBC.
The purpose of the session is to allow us to make immediate contact with the boys to assist us in the organisation of teams. The teams we put together for each grade will be of even ability with the primary focus of spreading ability/skill sets for maximum involvement and subsequent development. NB: In Term 1, all Year 9 players will play College Grade cricket because 3rd/4th XI sides are already half way through their season.
Gear bags can be dropped off in the storage sheds below the staff room, near the school canteen between 8.30-8.35am so the boys don't have to carry them around school. The shed will then be re-opened for gear bag collection after school.
REGISTRATION
To register to play College Grade cricket at TBC please click on this link: https://www.playhq.com/new-zealand-cricket/register/9c5e0e
Fees for all grades are as follows and are paid for on a term by term basis. You will note that our playing shirts are available to be ordered when you register for those who are new to TBC Cricket (or current players who require another shirt). Their cost has been subsidised at $50. When you indicate your shirt size on the registration form, have in the back of your mind that your son will also be wearing it for the 2023/24 season. Because the shirt is owned by you, your son can also wear it as an alternative to his PE shirt.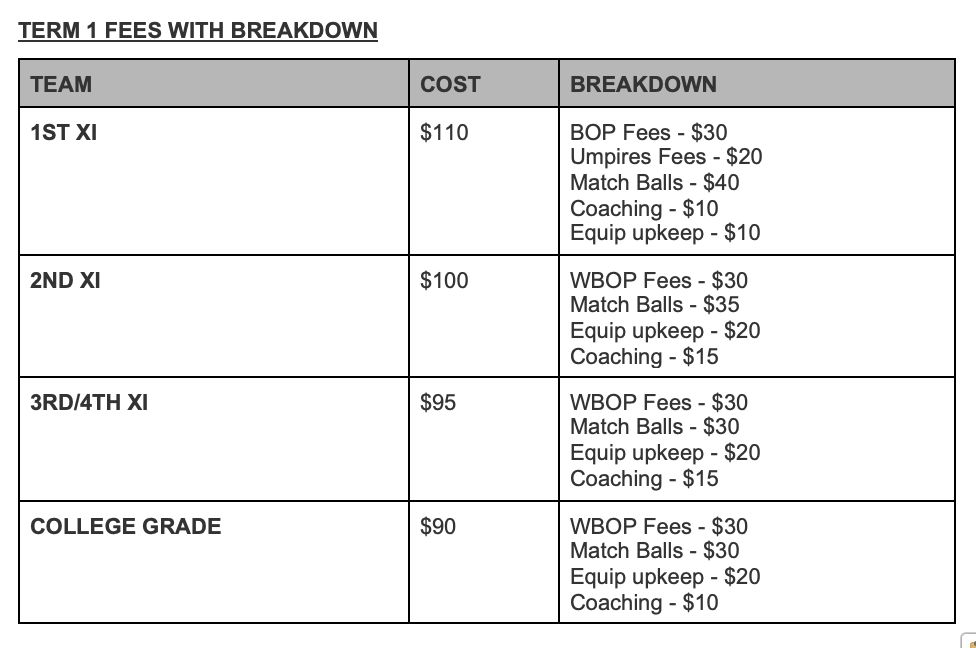 Once teams have been organised, the fee will be added to your son's 'school fees' for payment.
COACHES/MANAGERS/SCORERS
We are greatly appreciative of those who support our boys. We quite literally couldn't do it without you. The role of the 'Game Day Coach' in particular is a vital one. If you could support us by taking on one of the volunteer roles of 'Coach' or 'Manager' that would be fantastic. PlayHQ requires coaches/managers to also register. You can do this before or after you register your son, as there is a question on the homepage of the form that asks if you'd like to register yourself or someone else. You quite simply register yourself then select 'Coach' if you wish to coach or 'Manager' if you wish to manage a team. For anyone who would like to score using PlayHQ, please email me to let me know.
START DATE FOR COLLEGE CRICKET
All College Grade cricket begins Saturday February 11th. Teams will be announced ASAP and a training schedule constructed.
Please don't hesitate to make contact if you have any queries at all.
Ngā mihi nui,
Regan Cross
Master in Charge of Cricket